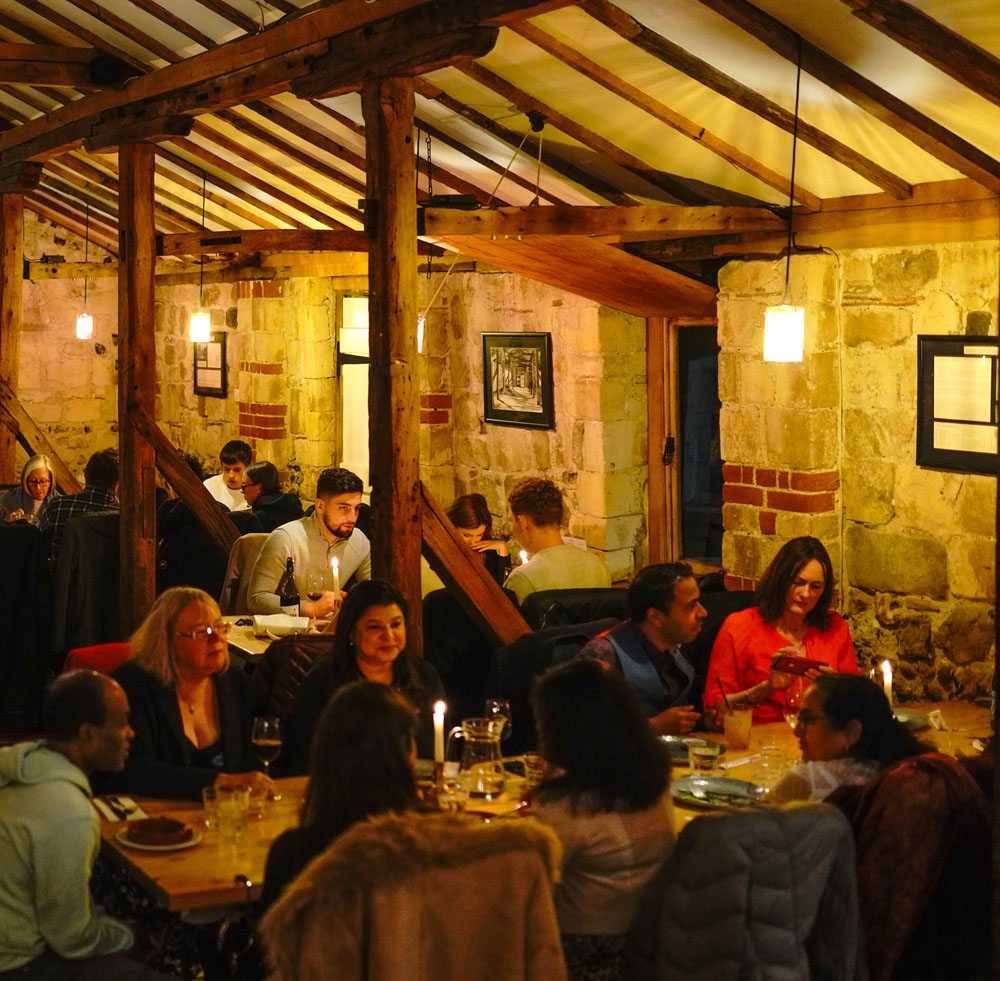 Private Dining Canterbury
Private Dining Canterbury:
If you're looking for an intimate dining experience with your friends, family, or colleagues, Cafe Du Soleil in Canterbury is the perfect destination for you.
We have a beautiful Dining Room upstairs at Café du Soleil, available for private use, free of charge, for groups of 16 people or more (30 or more on Saturdays). The oak-beamed room with views out over the River Stour can be set up in different ways to suit your event, with a single banquet table (30 feet long) to seat up to 30 people, multiple tables to seat up to 55, or mixed seating and standing room for 70 for more informal events.
We offer a set menu made up of our most popular signature dishes, to make organising your meal easy, with the added benefit of fixed pricing. We also have cost effective buffet menus available for more laid back social occasions. If you have any special requests or dietary requirements please do not hesitate to contact us, as our chefs cook all of the food fresh to order, so we can make any adjustments as required, or indeed create bespoke menus on request.
There is a fully stocked bar, an independent sound system that allows you to play your own music and the room can even be decorated to suit the occasion, should you wish. This makes the private dining room the ideal venue for weddings, business meetings, club meals, anniversaries and birthday parties.
How does it work?
Private Dining Canterbury: In our Private Dining Information Pack (download above) you will find:
Details of our menu options
A pre-order form that we require for parties of 12 or more.
A copy of our wine list is also included, should you wish to pre-order any drinks.
To book your meal, please contact the restaurant directly to confirm availability. We require a deposit of £10 per head to secure the booking, which will be refunded against the meal. We also ask that the pre-order form be returned a minimum of one week before the event.
Final Billing on the night: Please note that we cannot charge individually at the end of the meal, as this becomes infeasible when large numbers of people are involved. It is our policy to provide one itemised bill, except by prior arrangement. We are however able to run a cash bar with tabs where this is more convenient. This allows people to choose and pay for their own drinks.
We look forward to welcoming you at Cafe Du Soleil soon. Should you have any questions, please do not hesitate to contact us.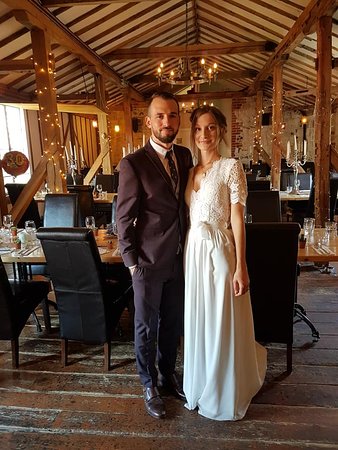 The Benefits of Private Dining at Cafe Du Soleil for Your Next Event
Private Dining Canterbury: If you're planning a special event, whether it's a birthday party, an anniversary, or a corporate function, one of the biggest decisions you'll make is where to host it. Some people might be tempted to host the event at home, thinking that it's cheaper and more convenient. But before you break out the party platters and start rearranging your furniture, consider the many benefits of private dining at a restaurant. Particularly a restaurant like Cafe Du Soleil.
Convenience: First and foremost, there's the convenience factor. When you host an event at home, you have to do all the planning, shopping, cooking, and cleaning yourself. This can be a huge burden, especially if you're already juggling a busy schedule. But when you choose to host your event at Cafe Du Soleil, all of those tasks are taken care of for you. Our staff will handle everything from the menu planning to the setup and cleanup, leaving you free to focus on enjoying your event.
Quality of the Food: Another benefit of private dining at Cafe Du Soleil is the quality of the food. Even if you're confident in your culinary skills, it can be difficult to prepare a large quantity of food that's both delicious and visually appealing.
When you choose to have your event catered by us, you can trust that the food will be top-notch. Our talented chefs who are experienced in preparing a wide range of dishes, so you can be sure that your guests will be impressed.
Wider Menu Options: In addition to the quality of the food, private dining at Cafe Du Soleil offers a wider variety of menu options. When you're hosting an event at home, you're limited to the dishes you know how to prepare and the ingredients you have on hand. But when you choose to have your event catered by us, you'll have access to a much broader range of cuisine. Whether you're looking for classic Italian fare, French dishes, or something in between, we can deliver the perfect menu to suit your tastes.
Ambience: Of course, one of the biggest advantages of private dining at Cafe Du Soleil is the ambience. Our welcoming and festive atmosphere, comfortable seating, tasteful decor, and just the right lighting create the perfect ambiance for you and your guests. When you host an event with us you don't have to worry about creating that atmosphere yourself. It's already here, waiting for you and your guests to enjoy.
It's more fun! Private dining at Cafe Du Soleil is simply more fun! When you're hosting an event at home, you're often too busy worrying about the details to really enjoy yourself. At Cafe Du Soleil, you can relax and let the staff take care of everything. You can mingle with your guests, enjoy a cocktail or two, and savour every bite of the delicious food. Plus, when the party's over, you can simply say goodbye and head home, leaving the cleanup to someone else! (some may say this is the best part!)
So, while it may seem tempting to try to cater your event yourself at home, as you can see, there are so many benefits to choosing private dining at Cafe Du Soleil.  So get in touch and let's get the party started!