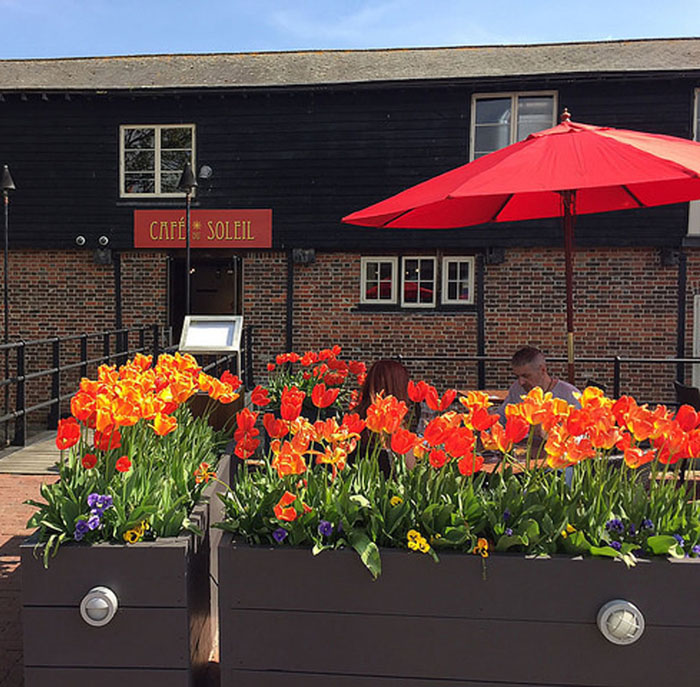 Outdoor Dining Canterbury
Outdoor Dining Canterbury:
If you're looking for a taste of the Mediterranean in the heart of Canterbury, look no further than Cafe Du Soleil.
This charming restaurant, located on the banks of the Stour River, offers a wide range of delicious dishes inspired by the cuisine of the Mediterranean.
One of the highlights of Cafe Du Soleil is its delicious pizzas. Made with fresh, high-quality ingredients and cooked to perfection in a traditional wood-fired oven, these pizzas are sure to satisfy even the most discerning palate. Whether you prefer a classic Margherita or a more adventurous combination of toppings, you're sure to find something to love on the menu.
But pizza isn't the only thing on offer at Cafe Du Solei. The restaurant also offers a variety of other Mediterranean-inspired dishes, including pastas, salads, and grilled meats. All of the food is prepared fresh on-site, using only the finest ingredients, so you can be sure that you're getting a high-quality meal every time you visit.
Of course, the food isn't the only reason to visit Cafe Du Soleil. The restaurant's location on the banks of the Stour River offers beautiful views of the water, making it the perfect spot for a romantic dinner or a leisurely lunch with friends.
Like a great deal? Don't forget our offers!
If you're looking to save a bit of money, be sure to visit Cafe Du Solei during their happy hour, which runs from 5 to 6 pm on weekdays. During this time, you can enjoy discounted drinks.
For an even better deal, consider trying the restaurant's special set menu, which is available from 12 to 6 pm on weekdays. This menu offers a selection of dishes at a discounted price, with 2 and 3 course options available, making it a great option for anyone looking to enjoy a delicious meal without breaking the bank.